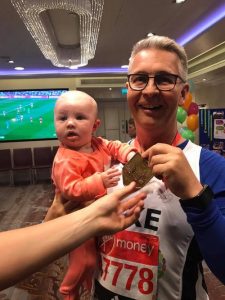 The iconic Virgin London Marathon is one of the most popular marathons in the world. While it is certainly no easy feat, it is one that an incredible 50,000 people attempt. Despite being a competitive race with serious prize money to be won, it is clear that the London Marathon is a race where taking part means much more than winning. Instead of striving for the prize money, race runners are giving their blood, sweat and tears in a bid for more sponsorship that they can donate to worthy charities and causes close to their heart.
On the 23rd April this year, Mike Mansfield, our very own Contracts Director at Fieldmans Access Floors Ltd, took part in the gruelling 26.2-mile-long race, raising an incredible £2879.61 to support his chosen cause; The Royal Marsden Cancer Charity.
Mike chose the Royal Marsden Cancer Charity as it is a cause very close to his heart. Just a few years ago, Mike's father was diagnosed with lung cancer, and the support they gave his Dad was remarkable. By supporting this cause Mike wanted to raise invaluable funds so that other families can get the help they need when cancer strikes. As you may know, Fieldmans Access Floors Ltd is a close-knit family-run business, so when Mike was running, he was doing it for our family, and we are all so proud and grateful for the money he has raised!
What happens to the money Mike fundraised?
The Royal Marsden Cancer Charity is a cancer centre that focusses on pioneering new treatments and understanding new research in order to revolutionise how we can treat and prevent cancer. The aim of The Royal Marsden is to find a future beyond cancer.
Mike's donation to the charity gave them funds to;
• Research molecular diagnostics which may help to speed up cancer diagnosis.
• Conduct genetic testing to help create a personalised treatment for each patient.
• Invest in state of the art technology such as the da Vinci surgical robot, which helps surgeons to conduct complex surgery.
• Purchase the latest MRI scanner to give a better analysis of tumours.
• Modernise their facilities which have of 600 inpatients a year.
• Run more clinical trials to help find the next treatment breakthrough.
Mike's Marathon
Mike's commitment to the London Marathon saw his training regime increase to maximum capacity and taking part in half marathons in preparation. On the 23rd April Mike crossed the finish line of the London Marathon in just 5 hours and 5 minutes an incredible time and a fantastic achievement especially as runners have;
• To pass a whopping 84 tempting pubs along the route
• No time to enjoy the 42 live music sites in the 26.2-mile race
• Over a million people supporting along the entire course and none of them can be your substitute!
Feel inspired?
Ballot entry for the 2018 London Marathon is now closed, but you may be able to find a place by running for a charity, or if you are particularly fit, you may qualify for a 'Good for Age' entry spot. If you'd rather support from the sofa then why not look at Just Giving, where you can donate to your chosen charity or person.
Want to find out more about our can-do attitude in work and marathon running? Then give Fieldmans Access Flooring a call on 020 8462 7100.