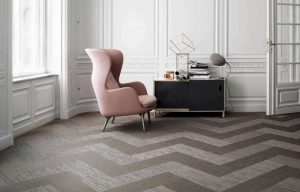 In 2000 we completed a research project for a supplier of high-performance carpet tiles that would complement our range of raised access flooring systems. We concluded that none of the suppliers that we looked at could match the quality, durability and elegantly fashionable design of the carpet tiles produced by Swedish flooring company, Bolon. We were impressed by so many things about this company's products that they have been our preferred supplier of raised access flooring carpet tiles since 2000.
Bolon is a cutting-edge design company located in the lush and scenic landscape of Sweden's Västergötland. Their collections are developed, designed and manufactured there and they describe their designs as a combination of "Nordic beauty and urban robustness".
The company was started in Stockholm in 1949, by Nils-Erik Eklund, and has remained in the family ever since. Over the last 60 years its reputation for providing attractively designed, robust flooring has just grown and grown.  It is now run by Nils-Erik's granddaughters Annica and Marie, who insist on providing the same combination of innovation, stunning design and durability that the company has become known for.
A lot of hard work and a profound understanding of what makes great flooring design has made Bolon a company that is now an award winning producer of fashionable and elegant flooring with an international reputation for design quality.
We can provide and lay the full range of Bolon's carpet tiles and these are what we believe to be the most important features of Bolon's range raised access flooring carpet tiles:
Long lasting – All flooring tiles come with a 10 – 15 year guarantee and you can expect a product life of up to 20 years if the manufacturer's care instructions are followed;
Construction – Bolon's carpet tiles are robust, being composed of a top layer which is fused with a PVC and glass fibre backing;
Durable – All of their flooring complies with quality standard EN685 making it suitable for domestic, commercial and light industrial use, and floor coverings in their collection are designated either durability class 32 (moderate commercial use) or 33 (heavy commercial use);
Care – You can clean Bolon's carpet tiles much in the same way you would clean other carpets. Simply, vacuuming and scrubbing stains with water and stain remover should remove all but the most severe staining or soiling;
Health and safety – All carpet tiles comply with quality standard, EN13501-1 (reaction to fire) [classification Bfl-s1];
Environment – Their floors have been awarded a number of environmental certifications including Floor-score, (which contributes to a higher LEED rating), GreenTag and BREEAM;
We are not alone in our praise for Bolon and they have been the recipient of numerous prestigious industry awards for their range of beautifully designed products, including:
FX Surface of the Year Award
Red Dot Design Award
Mixology Product Of The Year
Good Design Award
Universal Design Award
Design S Award
German Design Award
Beautiful Business Award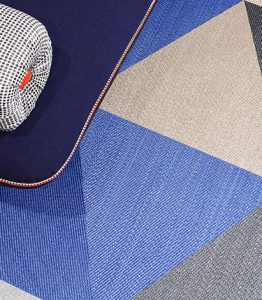 Bolon is now an international design brand whose award winning flooring can now be found in hotels, offices and retail outlets all over the world. We feel sure that once you have seen the range, design and sophistication of their flooring you will understand why they make the perfect complement to our range of raised access flooring systems.