Monotile produce traditional access flooring tiles made from cement and marble chips, and have thirty years of experience in their field. Raised access flooring can have a number of different finishes, and Monotile have accordingly produced two ranges; Praktika and Tecnika.
Praktika

Praktika access flooring tiles combine tradition and elegance to produce a 30x30cm square tile produced with a range of finished from matt to anti-slip brushed finish. The tiles also come in a variety of colours, ranging from modern chromatic finishes to more traditional classic finishes.
Praktika access flooring tiles are produced from a mixture of marble powder, granite chips and white cement binder. The tiles are highly durable and compact due to the method under which they were produced – all three ingredients are compressed into a thin layer, using very high pressures.
Tecnika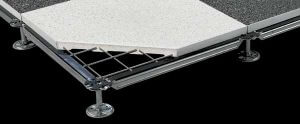 Tecnika access flooring tiles are more suited to areas with high pedestrian traffic, as they are created from a monolithic panel of agglomerated marble, and produced using a system patented by Monotile srl. Teknika access flooring panels are 60x60cm and are available in a wide range of colours and textures. Thus they are suited to a number of different environments, from a modern office to a historical town hall.
Fieldmans Access Floors Ltd has been successfully installing raised access floors across London, all of the UK and abroad since 1993, quality and client satisfaction are always the highest priority .
There are 2 key factors that have helped our company become one of the leading Access Flooring companies in the UK:
We are completely independent allowing us to use the product that is correct for our clients' requirements.
We directly employ our staff, negating the need for any reliance on subcontractors.
Should you wish to contact us directly regarding Monotile Raised Access Flooring Tiles, for a no-obligation site survey or just some advice, please call on or complete the contact form by clicking here.