Planium designs and manufactures raised access flooring surfaces and personalised solutions for architectural and contract design. With innovative products, and attention to design and new technologies, they deliver high functionality along with the finest materials and finishes. There are four main flooring systems:
SISTEMAMEN Autoposante (loose lay flooring) & Sopraelevato (raised access flooring)
PL01 System (loose lay flooring)
MODULORADIANTE (raised access floor heating)
Metiles l'eleganza del vero metallo (the elegance of real metal)
For all the Planium systems, the best steel finishes and the traditional natural porcelain finishes are available. Moreover, precious and exclusive materials, such as crystals or glass agglomerate can be installed on request, as well as laser engraving and photoengraving.
Planium Sistemamen loose lay removable tile system


The loose lay removable tile system eliminates the need for glues and cements: the metallic tiles are simply laid down and blocked on a thin rubber support. It can be directly applied on any type of surface without ruining or damaging it, thus can also be removed without any problems. The flooring is ready for use straight after installation and during installation there are no odours or dust. Carpet solutions can also be used on parts of this flooring system.
Sistemamen raised access flooring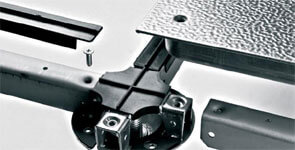 Screwing the panels into designated spaces instead of just laying them into an under structure assures stability, durability, noise reduction, hermetic seal against water and washing detergents and an automatic grounding for all elements. SISTEMAMEN has perfected its raised access flooring system especially for commercial and business spaces. Both solutions are available in different metal and stainless steel finishes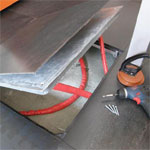 The Planium Moduloradiante Raised Access Flooring System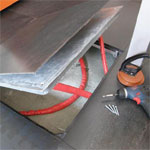 Moduloradiante pavimento sopraelevato radiante – is the raised access flooring heating system from Planium.
Moduloradiante is the first modular raised access flooring heating, with removable panels. The possibility of inspecting any component of the installation is combined with the greatest comfort of a panel heating.
This kind of modular raised access flooring heats any room through a low temperature system installed in every module. Electrical and network cables can be easily reached in the hollow space of the flooring.
The full working of the system is very fast due to the small thickness of the heating module, which gives more flexibility to its functions. With the new modular raised access floors heating, it is possible to match the expectations of flexibility and the quality of the office life.
The Planium Metiles Raised Access Flooring System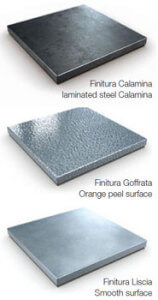 Planium Metiles l'eleganza del vero metallo – the elegance of real metal is a collection of tiles for floors and walls in genuine metal. Metiles can be easily installed in a raised access flooring system with the traditional gluing technique.
The beauty of the metallic finishes gives the possibility to combine Metiles also with the other traditional tiles, such as gres, wood and other metals in order to create rich and personalized floors and covering.
Planium offers an accurate selection of finishes including the favourite iron finishing called "Calamina". All the finishes are available in seven modules in different sizes for a wide range of combinations.
The Planium Raised Access Flooring PL01 System


The PL01 System pavimento autoposante (loose lay flooring) is a patented system that permits the laying of tiles without glues, cement or sealers, available in a wide range of materials and dimensions for raised access flooring. The system consists of a steel support that attaches to the flooring material. This method uses a series of lateral attachments for quick and precise installation of the tiles that are then secured into place by the blocking keys.
The process is then completed with the easy insertion of the plastic path lines. PL01 System has been designed to furnish a wide range of finishes and materials: Metals, Glass agglomerate (when coupled with steel supports are resistant and perfectly appropriate for flooring uses), Natural Porcelain, Natural Stone and Wood.
Fieldmans Access Floors Ltd has been successfully installing raised access floors across London, all of the UK and abroad since 1993, quality and client satisfaction are always the highest priority .
There are 2 key factors that have helped our company become one of the leading Access Flooring companies in the UK:
We are completely independent allowing us to use the product that is correct for our clients' requirements.
We directly employ our staff, negating the need for any reliance on subcontractors.
Should you wish to contact us directly regarding Planium Raised Access Flooring, for a no-obligation site survey or just some advice, please call on or complete the contact form by clicking here.